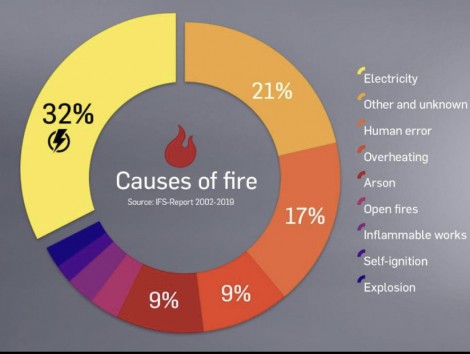 With electricity being the leading cause of fires, it is essential you have appropriate measures in place for prevention and suppression.
AMFE from KSS protects electrical devices and equipment by detecting and extinguishing at the first sign of temperature increase.
Why choose AMFE – Easy to use  /  Easy to install (retrofittable)  /  Variety of customer specific operating & releasing temperatures available  /  No water being used (gas)  /  Scalable  /  Robust and shock tolerant  /  NOVEC or CO2 as extinguishing agent  /  Usable in various applications (home, industry, automotive, etc.)  /  Mechanical release; no electric power supply required  /  Release mechanism: qualified in the automotive and sprinkler industry
The AMFE not only releases the extinguishing gas but also signals that it has. In installations where accessibility is limited, the AMFE can be connected to a monitoring system by two connectors for reading a signal. Permanently controlling if the AMFE has been initiated (e.g. line control through a PLC or monitoring device) allows for precise knowledge about the status of whether and where a fire might have started in an otherwise hard to reach installation. The S-AMFE is rated for typical PLC signals of 24V/48V and 1000mA. The connectors are standardized (6,3mm blade terminals), but customizations are possible.
In control cabinets, fire can quickly lead to a disaster. The AMFE extinguishes reliably and precisely.
APPLICATION VARIETY
The application spectrum of the AMFE is diverse: It ranges from technical household appliances, exhibits and collections to solutions in a vast variety of applications, both at home or in the industry.
FORM & FUNCTION
Due to rising heat in a fire scenario the pressure inside the glass bulb increases. After the predetermined operating temperature of the heat sensitive glass bulb is reached, the glass bulb bursts into small fragments and triggers a mechanism that releases the gas from the cylinder. The extinguishing medium is released through the holes in the outlet body and extinguishes the fire when the fire is still in an early stage. The quick operation and the effective extinguishing of the fire prevents further expansion of the fire and helps keeping damage to a minimum.
For More check out http://www.kssfiresuppression.ie/amfe or email rob@ddwholesale.ie